Soft MUD Stopper Half DOORS Arctic Cat PROWLER New UTV Enclosures 3 Colors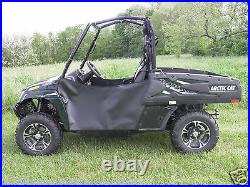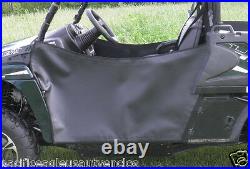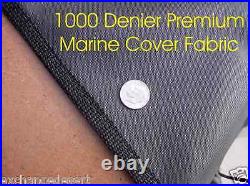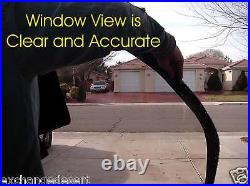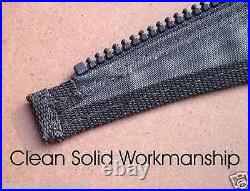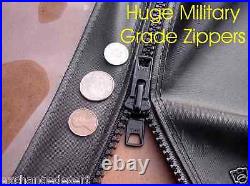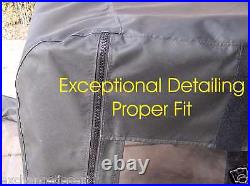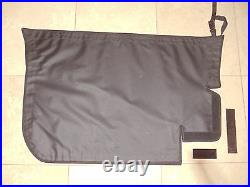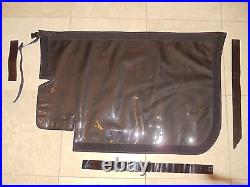 IMPORTANT: To guarantee the correct item is sent for there are many Prowler styles plus Mfg switches things up year to year and mid year, please provide the following with your order. Are your ROPS or roll bars ROUND or RECTANGULAR? If rectangular, we need outside dimension around tube (such as; 2" x 4").
Please provide 13 digit mfg model # (not the VIN #). Usually on frame and sometimes on bill of sale, title or registration.
If not certain, please send a photo directly to us of your UTV; a full view from side and full view from front so we can view. MUD STOPPER DOORS Only works with round roll bars or ROPS.
This style will not work if your ROPS are rectangular tubing. Please be sure to read full listing details and ask any questions prior to ordering (we attempt to describe in detail but if we missed anything or you wish clarification, please feel free & be sure to ask us prior to ordering). There are many details, so please read full listing before ordering.
If you don't see what your looking for... NOTE: Our Mud Stopper Half Doors will only fit roll bars or ROPS that are ROUND.
If your UTV has rectangular or tubular shaped ROPS, this style of doors is not available. NOTE: Designed to fit the HDX 700 XT models, however, it can fit some other models too depending on the year.
FITS THESE HDX MODELS: 2017: HDX 700 XT eps, HDX 500 XT - 2016: HDX 500 XT, HDX 700 XT, HDX 700 XT SE, HDX 700 Spec Ed --- 2015: 500 HDX, 700 HDX XT, HDX 700 XT eps --- 2014: 700 HDX Limited, 500 HDX Limited, 500 HDX XT, 500 HDX --- 2013: Prowler 700 HDX --- 2012 : Prowler 700 HDX --- 2011 : Prowler 700 HDX (tubular) - WILL NOT FIT 2011 or 2010 model years due to Tubular ROPS. Model Years 2011 + for the 700 HDX or 700 HDX XT.
Model Years 2015 + for the 500 HDX of 500 HDX XT. NOTE: We've had some models during the year 2010 fit. NOTE: Designed to fit the 2012 HDX 700 XT models, however, it can fit some other models too depending on the year. Refer to FITS Model / Year summary above.
Tired of Mud flying up into your cab? Then our MUD STOPPER Doors will solve that problem! 1 Pair of MUD STOPPER Doors. PROUDLY Made in the USA. COLOR - Choice of 2 Standard Colors. Onyx Black or Mossy Oak Break-Up. (Note; even though National Guard Woodland still shown on photo, it is no longer available).
This Enclosure is MADE TO ORDER FOR YOU! Our busy season is September-December. Absolutely Top of the Line Product. Side release buckles allow quick opening & closing of the doors. OUR Seven (7) Day SATISFACTION GUARANTEED POLICY.
We offer a Seven (7) Day INSPECTION Period from the date of receipt. Return must be delivered to.
This Arctic Cat PROWLER package includes our Soft MUD STOPPER Half DOORS for great protection from mud and stones. Mud Stopper Door uses the finest professional grade marine fabric made of 100% polyester with stay-true long lasting colors with stabilized fit of less than 1% stretch or shrinkage. Our marine fabric is water repellent, tear resistant, puncture resistant, mildew and UV resistant. It adheres to the roll cage with heavy duty YKK hook & loop Velcro.
It has side release buckles which allow quick opening and closing of the doors. An additional webbing panel is sewn into each door for increased stability.
Uses marine sewing thread made from selected high tenacity, heat resistant, continuous multifilament polyester yarns. Along with the highest quality materials, all.
Enclosures are hand measured and handcrafted to ensure a precise fit. MUD STOPPER Door provides protections at an affordable price. The package comes complete with self-adhesive Velcro, installation and care instructions. Everything is included in the package for easy installation.
ATTTACHMENT: Our enclosures are attached to the roll bars, frame members, and/or body at various points using Velcro with self adhesive backing (placement will be different for each make/model). These Velcro strips are applied to the various attachment points (roll bar, frame, and/or body) and will remain there if you decide to remove the enclosure during the warmer months.
Most owners elect to leave the enclosures on during the warmer months and if they include doors, they run with them secured in the open position. Some owners remove the enclosure completely and elect to leave the Velcro attached to the UTV for easy attachment the next winter. However, we have a small group who remove the Velcro from the roll bars, frame, and/or body completely when they remove the enclosure during the warmer months. The Velcro can be removed and the surface cleaned with a remover like Goof-Off. For these individuals, we sell a replacement adhesive Velcro kit. This enclosure is Made to Order for You! The availability shown behind the price reflects are raw materials available to make up this enclosure at this time, not the number completed and in-stock. This enclosure is BRAND NEW. Made to Order for You! MODEL YEARS: It will fit all model years (please verify availability for the new models added each year/season before ordering). Three (3) Standard Colors: Black, National Guard Woodland Camo. Marine canvas, 600 Denier TOP GUN brand, acrylic-coated100% polyester, is water repellent, tear resistant, puncture resistant, mildew & UV resistant with less than 1% stretch or shrinkage. CAMO patterns are a heavy duty 1000 Denier CORDURA nylon rugged fabric made from Invista's acclaimed, patented high performance polymer, designed for superior strength & abrasion resistance, coated Polyurethane on one side for water resistance. Plus, Mossy Oak Camo which is a 600 Deiner 100% Polyester material manufactured with a 2 pass Polyurethane Coating for water resistance. If you are looking for a quality enclosure for your UTV, look no further.
TOP OF THE LINE ENCLOSURE. This enclosure isn't your run of the mill, inexpensively made enclosure from.
Pacific Eagle Enclosures are proudly made in the. Using only the highest grade and time proven materials.
The material withstands being stretched over a boat for years on end enduring the buffeting wind, blowing rain, and harsh sun. This marine canvas fabric is the Top Gun brand. It is a durable, high count woven polyester that is coated on both sides with a specially formulated polymeric coating that will not harden, crack or peel after outdoor exposure or extreme temperatures. The coating adds UV, Mildew & Water Resistance but can still breath so it will not trap excess moisture.
The stitching is a continuous multi-filament polyester yarn. Google it and you will find out just how durable this material is. Its stretch-ability is limited to 1% and this helps it to retain the nice tight fit you would expect from a high quality enclosure.
Please check out the pictures. We show you close up shots that others shy away from. PHOTO 1-2: Shows the Mud Stopper Half Doors on an Artic Cat Prowler. PHOTO 3-7: Even though the Zipper and V inyl Window shown are not included in this listing, it gives you a feel of our high quality materials and workmanship on all our enclosures.
NOTE: The vinyl is used on the back side of each enclosure for easy of rinsing off. PHOTO 8: Shows our standard colors available. Shows Mud Stopper Half Door laying flat and not mounted (photo of different make/model). This shows the outside of the door with buckle style enclosure to the roll bar and hook + loop closure.
PHOTO 10: S hows a Mud Stopper Half Door laying flat and not mounted (photo of different make/model). This is the inside of the door and is lined with vinyl for easy cleaning. Shows bucket style attachment to the roll bar and hook + loop closures. Even though this package does not include a zipper, vinyl windshield or lexan windshield, we discuss these features so you can get a feel of our quality of materials and workmanship used on all our enclosures. You can see the large industrial sized zippers and the clarity of view through your Lexan windshield & the heavy Vinyl windows used on the doors / rear window panel & more.
Take a close look at the windows on others, they can look pretty crinkled. When you initially take the few extra minutes to install the enclosure properly, you will love the tight fit that makes it stand out among others. The Lexan Windshield is made of 1/4" Lexan which is much stronger than the 3/16" versions that will bow at high speeds with fast sport UTV's. We also use quick connect clamps with our Lexan screens. These make installation a BREEZE!
After the clamps are on your roll bar, you never have to remove them to take your windshield off. Just loosen the knob bolts to remove the Windshield. You are getting the best of both worlds here.
Our Lexan Windshields includes a 2 strip of rubber edging along the bottom and both sides. This edging protects the Windshield from hitting the roll bar when running hard and the rubber edging stops that cold. Even though one person can do it, two people are recommended to take advantage of its ability to fit tight. The long, heavy 2 wide strips of hook & loop fasteners (Velcro) hold the enclosure tight in place. This kit comes with full instructions.
A full hand tailored, custom fitting, absolutely top of the line enclosure. You won't be disappointed. Made to Highest Standards Hand Tailored for Precision Fit.
Using Top of Line, Heavy Duty Marine Grade Materials. Stay True long lasting colors. Water Resistant / Mildew Resistant / UV Resistant / Tear & Puncture Resistant.
Stretch & Shrinkage less than 1%. Large Industrial, Easy-To-Use YKK Zippers used for unmatched Crosswise Strength in the Industry. YKK Zippers work in extreme temperatures down to 50 degrees below zero. Zippers NOT included in this package... Refer to other styles if feature desired.
30 gauge Aqua View Vinyl Windows- rear & doors (vinyl used on the back side of the mud door for easy cleaning). Vinyl Windows NOT included in this package... All Lexan Windshields use Quick Connect Clamps for easy removal & installation.
Lexan Windshield NOT included in this package... Doors Unzip & Roll back to be secured safely open with Velcro. Doors NOT included in this package...
Easy To Install; Includes Self-Adhesive Hook & Loop. Included Installation & Care Instructions.
Military HOOK & LOOP closure rated from 0 to 120 degrees F. Be sure to view our other enclosure styles..... We have enclosures for most. If your UTV is modified from the stock/standard mfg. Please be sure to specify the YEAR, MAKE & MODEL of your unit and your choice of enclosure COLOR.
FOR THESE MAKES & MODELS. John Deere Gator HPX XUV Cabs, Joyner Renegade Cab, Joyner Trooper Cab, Kawasaki Mule 600/610 Cab, Kawasaki 3000/3010, Kawasaki 3000/3010.
TRANS Cab, Kawasaki 4000/4010 Cab, Kawasaki 4000/4010. TRANS Cab, Kawasaki Teryx Cab, Kubota Cab, Polaris Ranger Cab, Polaris RZR Cab, Polaris Ranger Crew Cab, Yamaha Rhino Cab. Full Cab Enclosures w/ Lexan WS. Full Cab Enclosures w/ Vinyl WS.
Summer Cab Enclosures w/ Lexan WS. Mini Cab Enclosures w/ Vinyl WS.
Top & Rear Window Only (For your WS). Lexan Windshields w/ Quick Connect Clamps. Door & Rear Window Only (For your Top & WS).
Thank you for your kind understanding of our policy! The photographs are of the actual item(s) for sale (not pasted or copied from elsewhere) unless stated in the listing as a Stock Photo. We attempt to check our emails on a regular basis, however, please allow 24 to 48 hours for a reply. We do not watch our e-mails 24 hours / 7 days per week. Any discrepancies from the listing must be reported to us within 24-48 hours of receipt of package.
Please inspect goods upon receipt. 1- We will leave Feedback for all Buyers after they receive & inspect the merchandise and leave us feedback.
We have implemented this policy to encourage Buyers to leave feedback (sadly, many buyers never get around to leaving feedback). 1- We will consider all REASONABLE Offers. 2- For your consideration when submitting an offer to us, we do not consider a discount of 50% or more off the listed price as Reasonable.
If the listing states we accept a return, the listing will state the time frame and any other requirements involved with a return. We can only offer MEDIA. On certain items (books, cd, dvd, ect). Other than the name change, everything else is the same.
The item "Soft MUD Stopper Half DOORS Arctic Cat PROWLER New UTV Enclosures 3 Colors" is in sale since Saturday, November 5, 2016. This item is in the category "eBay Motors\Parts & Accessories\ATV, Side-by-Side & UTV Parts & Accessories\Other". The seller is "usa_made_utv_enclosures" and is located in Lexington, Kentucky.
This item can be shipped to United States, all countries in Europe, all countries in continental Asia, Canada, Australia, Bermuda.
Country/Region of Manufacture: United States
Fits: Arctic Cat PROWLER HDX700xt UTV
Mfg. Warranty: YES - One Year
Color: Black or Mossy Oak BreakUp
SATISFACTION GUARANTEE POLICY: 7 Day Inspection Period (see Return details)
RETURN POLICY: 14 Days / RMA # Required (see Return details)
ROPS or Roll Bars Required:: ROUND (will not fit tubular or rectangular ROPS)
Surface Finish: Solids-Marine Canvas & Camo's Cordura Nylon
Manufacturer Part Number: USA-MSD
Part Type: UTV Cover or Enclosure
Part Name: Soft MUD STOPPER Half DOORS
GTIN: Does Not Apply
Placement on Vehicle: Left
Brand: Desert Exchange / PacificEagleUSA
Warranty: Yes