Kit Flywheel + Flywheel Puller Gasket For Arctic cat TRV 400 4x4 Auto 2006 2007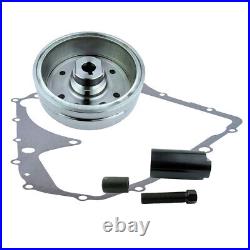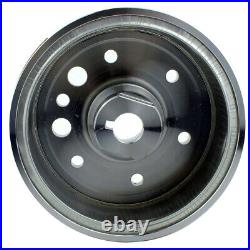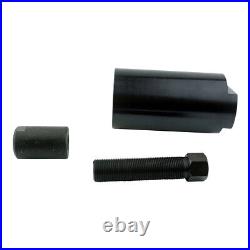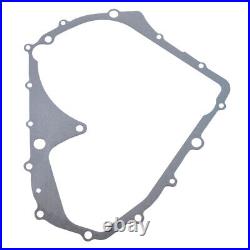 ATV / UTV / SXS. PLEASE NOTE: This kit will fit ONLY on AUTOMATIC models. PLEASE NOTE: This kit will ONLY fit on AUTOMATIC models. Brand new Magneto Flywheel, Flywheel Puller and Gasket.
All item pictures are accurate; if in doubt, do not hesitate to compare our item to your original part. RMSTATOR is offering a new replacement flywheel.
This flywheel can be used as a direct replacement to the OEM. Why our RM11502 flywheel is improved. The additives in the motor oil were dissolving the epoxy that holds the magnets in the flywheel, causing them to detach and scatter throughout the engine. The good news is that RMSTATOR has manufactured a redesigned flywheel where the magnets are sealed in the flywheel, which reinforces the epoxy and prevents them from detaching. This new flywheel configuration corrects the problem permanently.
RMSTATOR offers you a high quality replacement part that corrects the problem for half the price. The RM11502 flywheel is not only a cost effective way to replace your failed Suzuki or Arctic Cat flywheel, but a great investment when replaced before the failure occurs. SEAL THAT PROTECTS THE MAGNET'S EPOXY FROM OIL ADDITIVES. Dimensions: Exterior Diameter: 143 mm Interior Diameter: 118 mm Interior Diameter Center Housing: 18 mm Exterior Diameter Center Housing: 42 mm Thickness (exterior): 12 mm Thickness (interior): 13 mm.
Puller: 50 mm x 1.5 Right hand Female. Before attempting to start your vehicle, adjusting the air gap is necessary. Tips on removing a power sport vehicle flywheel / rotor. Flywheel Pullers are very versatile engine service tools and are a must in every toolbox. Flywheel pullers are very simple to use, having only an outer body to hold the flywheel and a screw to push on the crankshaft. Some are even simpler, having only a bolt to thread into the flywheel. A taper holds the flywheel or rotor and the crankshaft together.
The flywheel is secured to the shaft by applying torque to the fixing bolt. Most of the time, removing a flywheel or rotor is painless. But sometimes corrosion, over-torquing the fixing bolt, or heat-cycling can give you a hard time removing the flywheel. We too often see mechanics use a larger breaker bar or air impact tools to ease the flywheel off. These two techniques will damage the flywheel, the flywheel puller or the crank.
Avoid using them if you want to keep it cheap. We can give you two simple tips to break a stuck flywheel loose. But how do you know if it? You simply have to set your torque wrench to 50 ft-lbs and try to ease the flywheel off.
If the flywheel is not stuck, you should be able to remove it with even less torque than this. If it is stuck, don? T use more torque or you might break your wrench. If 50 ft-lbs does not do the trick, go fetch something like a 12 or 16 oz ball peen hammer.
Hit the end of the flywheel puller with a medium blow. Many times, the shock you create will successfully remove your flywheel. Be prepared to catch the flywheel since the shock of the hammer can make the flywheel jump off. Once again, getting into that situation will be pricey. T forget your safety glasses.
The hammer is not a be-all, end-all solution. Sometimes, you will have to find something more powerful, and that?
S where the propane torch comes in. As a last resort solution, the heat should expand the flywheel but not the crank, since it is too massive to expand as fast. That way, the flywheel will become looser and will come off easier.
Remember: In order to not set fire to your garage, your vehicle or yourself, certain precautions are necessary prior to heating the flywheel. Clean any oil or flammable liquids off the flywheel.
Make sure your work area is free of any flammable liquids and that you work in a well ventilated area. Make sure to remove the gas tank and set it aside at a safe distance. Make sure the flame of your torch is focused, and heat only the center of the flywheel. This is due to the fact that some flywheels use adhesive or other fixing compounds to locate the magnets in the rim that can be damaged by concentrated heat. Here again, the wheel might fall off the crank, so be prepared to catch it.
And remember that you just heated it, so make sure you can catch it without burning yourself. With these tips and techniques, you are now equipped to handle any stuck flywheel without throwing your flywheel puller at it; unless you have a habit of working with machines that have been in a lake for months! Learn more why and how to repair melted or corroded connectors. Add a map to your own listings. More than 20 years of assisting mechanics around the world resolving the worst electrical problems made us know our stuff.
When it comes to vehicle electrics, we definitively are the power in powersports.