ARCTIC CAT 650 700 1000 (2011-2014) DEMON Heavy Duty Front Left Axle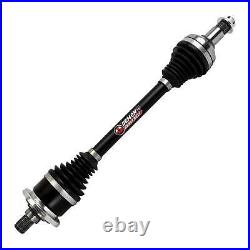 Why choose Demon HD Axle? Through years of research and development Demon Powersports has developed an axle that doesn , t burn a hole in your pocket and adheres to the highest quality standards. These axles are bigger, beefier, and stronger. Demon Heavy Duty Axles are built using larger CV joints and shafts, paired with our proprietary dual heat treatment process, and 4340 Chromoly Steel inner CV cage gives these the axles the edge it needs for superior strength and longevity. These axles also utilize a unique double plunge design which allows it to achieve higher articulation angles approximately 45 degrees on the outboard side and about 40 degrees on the inboard side.
Trust in Demon Heavy Duty Axles to keep you riding! Cage Made Up of 4340 Chromoly Material.
Thermoplastic Polyester Elastomer (TPEE) Boots. 15% - 20% Increase in Diameter Compared to OEM Axles. 10% - 15% Increase in CV Joint Size Compared to Regular Joints.
Boots Packed with High Load Molybdenum Grease. Can Fit 2", 3", 4" and 5" Bracket Lifts/Portal Gear Lifts/A-Arms of Particular Brands.