4 Wheel Adapters 4x115 To 4x156 Thick 1.25Put Many Polaris Wheel on Arctic Cat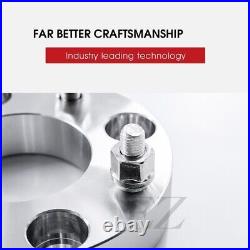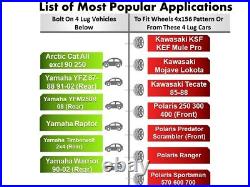 TWO PAIR (4) BRAND NEW 1.25 INCH WHEEL ADAPTERS 4 ON 115 MM TO 4 ON 156 MM. Open End Lug Nut Thread. True 6061 T6 aircraft quality billet. Open end lug nuts included. Used to install wheels with different bolt pattern on the vehicle.
Arctic Cat: 250 2x4/4x4, All 300, 366, 375 series, 400 2x4/4x4, 400 2x4/4x4 Auto FIS, 400 4x4 MRP/FIS MRP, 400 4x4 Auto/Auto VP, 400 4x4 Auto FIS/Auto FIS LE, 400 4x4 Auto FIS MRP, 400 TRV, 400i CR, 450i EFI/GT, 450 XC, 450 CR, 454 Bearcat 2x4/4x4, All 500, 500i series, All 650, 650i series, All 700, 700i series, All 1000, 1000i series. For You to Mount 4x156 Bolt Pattern Wheels from many Polaris, Yamaha models. These wheel adapters can fit on vehicles as is listed above and allow you to install wheels with a different bolt pattern as specified on Wheel Side Bolt Pattern. If your hub studs length are longer than the thickness of adapters, you may need to shave down the factory studs; so that wheels can mount flush on the adapters. Torque of 80 ft-lbs is recommended for mounting adapter to vehicle and wheel to adapters.
Check studs thread size on the adapters to see if they match your vehicle. If they do not, you need to change mounting lug nuts and possibly lug nuts on wheel side accordingly.
Our open end lug nuts are provided as a bonus and are not guaranteed to fit every vehicle. Measuring 4 lug bolt pattern is very straight forward.
Measure center to center of two holes directly across from each other. These high quality billet wheel adapters help you space out your wheels, gaining extra clearance and a wider stance. Some people may call them spacers because they don't change bolt patterns. When you lifted your vehicle or tried to install bigger size wheels and tires, you may get hitting problems.
Wheel adapters will be a smart and easy solution for you. Our non-converting wheel adapters or spacers cover most of bolt pattern sizes. Special sizes could be custom made upon request. Make sure your address is deliverable from post office. Remember 2-3 day service does not count Sunday or holidays.
It is not a guaranteed service but has been proved to be highly reliable. Make sure your address is deliverable by post office. No account is required for ProPay.
1 Year against manufacturing defects. We want to reassure you that our wheel adapters are made with premium grade billet materials and machined with precision CNC machines.
Damage/defective wheel adapter is required to be sent back to us for inspection. Are wheel adapters and spacers safe?
Wheel adapters and spacers are safe. Correct installation procedures must be followed to ensure safety.
What type of information will you need to get the correct size? To verify the correct bolt pattern sizes for wheel adapters and spacers, vehicle model and year information will be required. Bolt pattern information for wheels need to be checked as well. If you are not sure, please contact our tech support. You need to pay special attention if you have 5 lug vehicle and/or wheel, since measuring 5 lug vehicle bolt pattern can be tricky.
Please check measuring instruction above carefully. Will wheel adapters require additional modifications? Wheel adapter installation is very straight forward and in most cases, just a direct bolt-on. However under certain circumstances modifications are required. When your studs protrude outside the adapters and hit against your wheels, you need to trim them down to make them flush.
It happens most often on one inch adapters. If you are ordering two piece adapters converting from 6 to 8 lug, for example, the outer piece adapter may need to have the center bore enlarged if you have an extended or locking hub. In some other situations where lug nuts do not match with studs, you just need to change the lug nuts to match.
What is the difference between our wheel adapter/spacer and other sellers'? We use premium grade true billet material and machined with CNC machines, unlike many other sellers' adapters made in recycled or billet scraps just for low cost. Wheel adapters and spacers are manufactured in a quality facility in which all parts and material are inspected and rigorously tested. For special sizes, you can request for a custom build adapter/spacer. " "Do they offer extensive tremendous size choices? " "Are they true expert who specialized in all aspects of wheel accessories? " "Will they be able to build a custom set according my special requirement? " "Will they be able to offer special lug nuts in case we have a special rim? The answer is already obvious to you. Rest assured that you are getting high quality wheel adapters or spacers at an unbelievable price.
You get what your paid for. Powered by SixBit's eCommerce Solution.